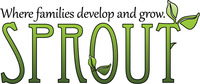 Sprout
(907)235-6044
Office@sproutalaska.org
3691 Ben Walters Ln. #4
Homer, AK 99603
www.sproutalaska.org
Welcome to Sprout's online ASQ system! These questionnaires are a series of questions regarding all different areas of development. They help indicate if your child could benefit from further assessment in any specific area. Your child will probably be able to complete most, but not all of these activities. It is best to try and and make filling these out a fun, learning experience for you and your family. It can be fun, and is most effective, when these activities are done together while filling out the questionnaire and an attempt to make a game from them can turn it into a great experience! Please remember that it is important to completely fill out the questionnaire and information as best you can. Feel free to contact us with any questions or concerns you may have.