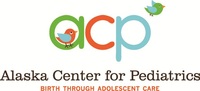 Alaska Center for Pediatrics
2925 Debarr Road
Ste 230
Anchorage, Alaska 99508
9077771800
Welcome! 
You've been invited to participate in an Ages & Stages Questionnaires, Third Edition (ASQ-3), online screening to help you keep track of your child's development. These questionnaires are completed for your child's 9 month, 18 month, and 30 month well child appointments. You will be asked to answer questions about some things your child can and cannot do.  The questionnaire includes questions about your child's communication, gross motor, fine motor, problem solving, and personal social skills.
Please note: If you would like to complete your child's current ASQ online, without having to print out the packet, please enter your child's age below and proceed to Step 3 on the following page.
In partnership with the American Academy of Pediatrics, ACP is participating in a developmental screening quality improvement initiative. You may receive a request to complete a brief survey on your experience with ACP's developmental screening process. Thank you in advance for taking the time to provide your feedback.