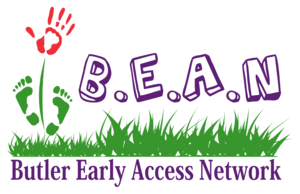 Butler Early Access Network
316-775-5491 x4
520 E Augusta Ave
South Central Mental Health
Welcome to the Ages and Stages Questionnaire screen provided by Butler Early Access Network (BEAN)! This screen will give you a snapshot at your child's current development. You are encouraged to share results with your child's pediatrician.  BEAN's mission is to promote universal developmental screenings in early childhood across Butler County. BEAN is also a referral and resource hub for parents of children 0-6 and can provide assistance with referrals to community services and resources.