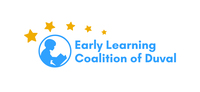 ELC OF DUVAL - DEVELOPMENTAL SCREENING
904-208-2044, EXT. 253
DDECASTRO@ELCDUVAL.ORG
6500 BOWDEN RD, SUITE 290
JACKSONVILLE, FLORIDA 32216
Welcome to DEVELOPMENTAL SCREENING an online child screening program administered by Early Learning Coalition of Duval.
Thank you for your interest in social emotional screenings for the children in your care or your children.