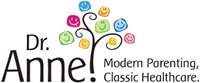 Dr. Anne Pediatrics
972-304-0091
office@drannemd.com
150 S Denton Tap Rd Ste 116
Coppell, Texas 75019
www.DrAnneMD.com
Welcome to Ages and Stages online Questionnaire for young children.  This page is sponsored by Dr. Anne Pediatrics and is for the sole use of our patients.  If your child is not a patient and you would like your child to become a patient at Dr. Anne Pediatrics, please call our office at 972-304-0091 to schedule an appointment.