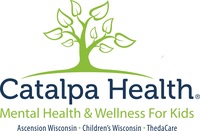 Catalpa Health
920-750-7000
www.catalpahealth.org
4635 W College Avenue
Appleton, Wisconsin 54914

Welcome to our ASQ Online developmental screening program!

 

Help Me Grow Fox Valley is working with a variety of community partners, such as Catalpa Health, to provide you and your family with information and resources related to child development and parenting. Help Me Grow, along with Catalpa Health, provides personal resource coordination and facilitates partnership within the community to improve the availability and quality of services to families. We are offering free developmental screenings because of the generous donations of local community partners.