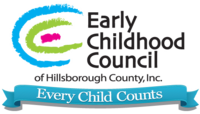 Community Developmental Screening /  306 N Knights Ave  /  Brandon, Florida 33511 / www.ecctampabay.org
VERY IMPORTANT:  If you receive support through School Readiness towards the cost of childcare, please GO TO THIS LINK to start the screening process through the Early Learning Coalition of Hillsborough County.   If not currently and actively enrolled in School Readiness then please continue on this page.  
Welcome! Early developmental screening and access to support and intervention services can play a vital role in the development of your child. The Early Childhood Council (ECC) provides developmental screening services at no cost to families living in Hillsborough County.  These services can help identify a potential developmental concern before children enter kindergarten. Please continue if you have a concern or simply want to check in on where your child is developmentally.  We are happy to help.