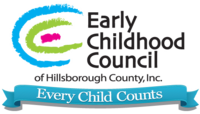 Community Developmental Screening /  4210 West Bay Villa Ave  /  Tampa, Florida 33611 / www.ecctampabay.org
Welcome! The Early Childhood Council, Inc., through generous support from the The Children's Board of Hillsborough County and Hillsborough County Public Schools, is providing parents with free access to this online screening tool.   Through completing this online screening, one of our intake specialists will contact you (typically within 5 business days) to discuss results and next steps which may include:
1.  Scheduling your child for one of our monthly "face to face" screening events where we will look at areas such as height & weight, vision, hearing, learning / cognitive development, speech & language, and social emotional development.
2.  Helping connect your child to formal evaluation for early intervention services through Early Steps or Child Find (School System).
3.  Providing information and assisting in connecting you to other valuable supports in the community.
In addition, the intake specialist will provide you with information, tools, and activities that can done in your home geared towards promoting healthy growth and development.
We also may follow up with you in a few months to continue assisting with connecting to services as needed, to check in on how some of the recommended developmental activities are going and to do a follow up ASQ screening to see how your child is progressing or if there are any new concerns.  
Make sure to check your email for messages with @ecctampabay.org as the address or voicemails from staff at the Early Childhood Council of Hillsborough County.
Please read this message below from Ages and Stages and Brooke's Publishing: