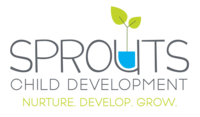 Sprouts Child Development
5840 S. Memorial Drive, Suite 302
Tulsa, OK 74145
918.699.4250
Welcome to the Sprouts Child Development Initiative online screening site. Completing a developmental screening with your child can help answer questions about how they are growing and developing.  Children from 2 months through 5 years of age, living in Tulsa County or surrounding areas, are eligible to participate in the ASQ-3 screenings.  
Because your child's first five years of life are so important, we want to help you provide the best start for them. You've been invited to participate in the Ages & Stages Questionnaires, Third Edition (ASQ-3), to help you keep track of your child's development. The questionnaire may be provided every 2-, 4- or 6-month period. You will be asked to answer questions about some things your child can and cannot do. The questionnaire includes questions about your child's communication, gross motor, fine motor, problem-solving, and personal social skills.
Enter your child's birth date, and the number of weeks he or she was born prematurely, below to start the screening. Please note that the information you enter into this website is secure and cannot be seen or accessed by anyone other than the program employees who have invited you to participate in this screening.
Please make sure when you enter your child's birthdate that the Year/Month/Day they were born is entered correctly before you move on to the next area so the automated ASQ system will provide you with the correct questionnaire.  Also, when you are taken to the next screen which tells you what age ASQ-3 you will be filling out, please check to be sure it reflects your child's correct age before you start to fill it out.  If it's not your child's age, please go back and enter their birthdate again..thanks!